Your Austin Water Damage
Restoration Pros
Water damage? Our certified techs start today & stick with you until you're back to normal.
Quality Work &
Exceptional Service
We'll do more than restore your water-damaged home or business – we'll restore your peace of mind.
Extremely professional with honest and helpful feedback. Highly recommended!
They can out right away fixed the water problem and called me with a estimate of the repairs before they started the work. Would recommend due to the quick...
These guys were awesome! Came out immediately upon our flood and did the needed demo/cleanup.Jason, the owner has been amazing throughout the entire process and Kylie, the office manager was wonderful, kind and always quick to respond. I hope not to have to use again :) but would definitely recommend. 10 out of 10!
These guys were awesome! Came out immediately upon our flood and did the needed demo/cleanup.Jason, the owner has been amazing throughout the entire...
Ryan was great adressing our concerns. We'd hire him again and recommend to friends and family.
I had a pretty sizable leak coming from my primary bathroom upstairs and dripping down into my downstairs living room. I called a few companies, and had...
Total Restoration responded very quickly to our situation. We had a broken water line to a water heater that had been running all night in our guest house. Within and hour - we live outside of the Austin area -of my call Ryan evaluated the situation and called for reinforcements. Great communication on every level, and Kylie helped me deal with the insurance company. Hope to never have to use them again, but would in heartbeat if necessary. Highly, recommend!
Total restoration did a great job on our home. They did prioritize based on the home condition unlike other services. They were fast and very professional...
During the Feb '21 winter freeze, a cap blew off of a pipe in the middle of the night. Within an hour, I awoke to flooding throughout my entire house. I called more water mitigation companies than I can count and ended up on 12 waitlists. Once roads opened up, Total Restoration of Texas was the first company who had the means and the equipment to help. All the others were short-staffed and under-equipped to fill the enormous needs of our community. I got a 9:30 pm text from Kylie, the office manager. She apologized for the late contact and asked if I still need help. (Ummm... Yes, please!) Ryan was out the next day. He managed all of the water mitigation. From the inspection to the demo to the dry out, he was there. They all had to be working 80 hours/week, and they did it all with a smile. Then came insurance. Whew! Kylie handled most of it and let me know when I needed to step in. Boy, she sure knows the ropes when it comes to dealing with insurance! I hope I never have to go through this again, but if I do, Total Restoration of Texas will be the first people I call. They are professional, they took care of my home and belongings, and they took care of me when I needed help with my insurance company. Thank you!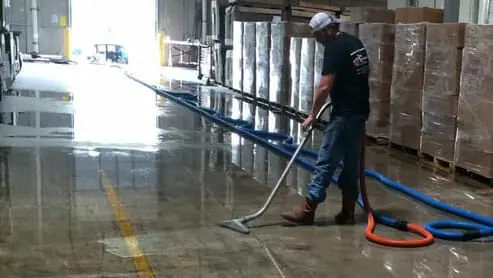 Whether a pipe burst, a toilet, or a tub overflowed while you were gone for the weekend, or your house took on floodwaters, we can help.
When you've experienced a house fire, the smoke damages more than the building itself. Cherished family photos, artwork, electronics, and furniture can be impacted as well.
Restoring your home or business after a flood is a big job. Water and moisture often cause hidden damage that goes beyond what you can see.
Austin's Water Damage Restoration Experts
Are On The Way
We'll do more than restore your water-damaged home or business: we'll restore your peace of mind. Our trained technicians will be on-site in an hour, whether you call on a Saturday afternoon or 3 a.m. on Tuesday.
The expert you meet on day one will walk you through the entire process, from extracting excess water, to bringing in fans, to using the latest technology to find every last bit of moisture through the quality rebuild. Our more than 20 years of experience have steadily built our reputation as Austin's most trusted flood, water damage, water extraction, and water removal company.
We work for you. And alongside your insurance company.
We have one-on-one relationships with every major insurance company to ensure streamlined billing and processing with no up-front costs for you. Since we're independently owned, our priority is to clean up, restore and rebuild your home or office to pre-loss condition. We're here to handle the logistics so you can focus on getting your life back to normal.
Our entire team are experts. Our technology is second-to-none.
Our staff has been with us for years. Each technician holds an IICRC certification. They attend continuing education courses year after year to stay on top of the latest technology and procedures in water removal and flood damage restoration. We do not use subcontractors because we take pride in a personal relationship with our customers. The expert you meet when you first call will be there with you until the job is done.
We employ all the latest technology for every customer, from infrared moisture tools to antimicrobial treatments standard for every water damage or flood restoration project. You expect quality work, and because we hold ourselves to a higher standard, you'll get the quality you deserve.
Whether a flooded toilet or water heater, standing water, or any other water emergency, Total Restoration will be there to extract water, dry out, clean up, rebuild, and get you back to normal.
We mitigate flood & water damaged homes and offices in these Austin-area communities:
Austin
Bee Cave
Buda
Cedar Park
Georgetown
Kyle
Lakeway
Leander
Lockhart
New Braunfels
Pflugerville
Rollingwood
Round Rock
San Marcos
Sunset Valley
West Lake Hills
Water damage? Let us handle the mess.
Drop us a line today or call for a quote!